There are two ways to improve:
1. The classic way:
Do – make an improvement
Do – change a process
Do – implement some training
Do – install a system
When you have been through the 4 do's keep right on doing.
2. The recommended way:
When you have finished the cycle, circle back to Plan.
The outcome:
The two methods drive different results.
Do, do, do, do causes rapid jerky movements in performance.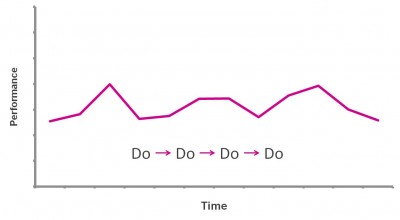 Plan, do, check, act drives a slow steady ratcheting up of performance.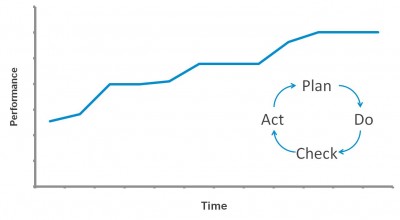 Check and act lock in the good and abandon the bad…  Do, well do just keeps on doing.
Pro's and Con's
The do, do, do, do method has the advantage that you feel that you are making progress and it is clear to the world that you are doing something.  Lots of things even.
The plan, do, check, act method has the advantage that you know you are making progress. 
The choice of method is — of course — yours.
A couple of nuances:
Plan do check act…
Separates the changes you make so it easier to see what worked.
Builds critical thinking skills in your workforce, rather than reactive acting skills.
Is iterative, so you continually improve, always building on what you have done so far.
When you think you have tried everything you haven't ~ Thomas Edison 
If you enjoyed this post click here to have the next delivered straight to your inbox
Image by Dennis Wilkinson
Read another opinion