I've just spent an hour playing Cluedo with my children (it felt much longer).
Admit it, you've played it, the detective game.  The idea is to work out who committed a murder, where they did it and how.
I think it was Miss Scarlet in the Hall with the Lead Pipe
I think it was Reverend Green with the Rope in the Library
Players take it in turns to make a guess, then their opponents prove them wrong by sharing some of their evidence.  Remember it?
It is a powerful idea
Create a hypothesis, then look for evidence that proves you wrong.  Every time you find some you learn something.  The person who learns the who, where and what first wins.
And that in a nutshell is the only way we truly learn anything new.
But we don't learn
We look for evidence that supports our hypotheses and ideas and ignore the evidence that challenges them.  We look for things that confirm our beliefs:
The MMR jab causes autism, because some children start to show the signs of autism after the jab
The longer the call the better the customer service, because my Aunt Flo had great service when she talked to somebody for an hour and a half
The world is flat because, it erh… looks flat, and isn't it obvious?
So if you really want to learn something
Look for evidence that proves you are wrong, not that proves you right.
Mind you, that Miss Scarlet does look a bit suspicious, or is that just wishful thinking?
If you enjoyed this post click here for updates delivered to your inbox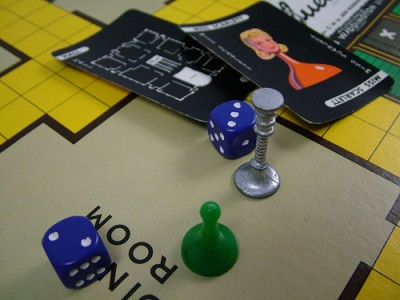 Read another opinion
Image by unloveablesteve