If there is one thing that upsets me…
Really upsets me it is being controlled.  Being told where I have to be, when I have to be there, what I need to do, which meeting I need to go to… I hate being controlled.
Of course it cuts both ways.  If I am hell-bent on upsetting my team then a little micro management goes an awfully long way.  And therein lies the dilemma, if I hate being controlled, then why do I feel the need to control my team?  Why is it that sometimes I think they just need to be told?
Do we need to control?
What would happen if we relaxed a little?  Could a complicated system work without multiple layers of control and governance?  Maybe it could …
Do you need lights to control traffic?
When the traffic lights fail at the cross roads on your way into work does everything grind to a halt?  No it doesn't, the cars get to their destination, people still get to work; just as long as:
We know where we are going
We slow down a touch
We show a little courtesy
Then the traffic flows.
But a cross roads is a simple scenario, how about something a little more complicated?
Do you need an agenda to control a meeting?
Can you run a conference without a formal agenda?  Conventional wisdom says it is a must, otherwise the whole thing drifts aimlessly — you know how bad that is.  But you can run a very successful meeting without an agenda.  Try an open space meeting.  It works beautifully just so long as:
You are clear what the meeting is for
People want to be there
They expect it to work
Then you can have a truly innovative discussion.
Now, what about something really complicated?
Do you need a hierarchy to control a company?
This is the big league…  Can you run a whole company without hierarchies and job titles?  Do you to need command and control? The textile manufacturer W.L. Gore proves you don't.  Instead of a formal management structure they have:
Shared values
Joint ownership
Deliberately small business units
Of course it's not perfect, but their employees love it, and they always turn a profit.
So do we need control?
Maybe not, but we do need a clear goal, a trusting environment and the ability to leave our egos at the door.  All of which is hard work.
Which is why I find a little command and control is a whole lot easier — and to hell with the consequences.
There are no cheap tickets to mastery ~ Donella H. Meadows
If you enjoyed this post click here for updates delivered straight to your inbox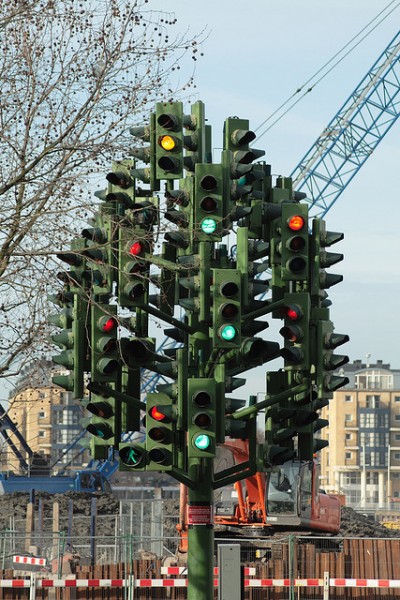 Read another opinion
Image by Davide Simonetti