Yesterday I was writing mission statements.  It wasn't easy.  We ended up with something that was designed by a committee, stuffed full of adverbs and instantly forgettable.  Very frustrating
A good mission statement makes a difference, it tells people what you stand for, what your purpose is.  It is something to engage with.  Read these, see what you think:
The good
Walt Disney
"to make people happy"
Google
"to organise the world's information and make it universally accessible and useful"
Facebook
"to give people the power to share and make the world more open and connected"
The bad
General Motors
"to be the world leader in transportation products and related services"
AOL
"to serve the world's most engaged community"
The ugly
Exxon Mobil
"to be the world's premier petroleum and petrochemical company. To that end, we must continuously achieve superior financial and operating results while adhering to the highest standards of business conduct. These unwavering expectations provide the foundation for our commitments to those with whom we interact"
I think it safe to say you aren't all clambering to work for Exxon
Write a better mission statement
Is your mission statement:
Clear: is it absolutely unambiguous?
Guiding: does it provide direction when you don't know what to do?
Short: will anybody ever remember it?
Outward looking: does it focus on what you can do for the world or what the world can do for you?
Engaging: is it compelling enough for anybody to change their behaviour and get behind it?
If it isn't then it is not worth the paper it is written on.  And on the note I had better get back to my word-smithing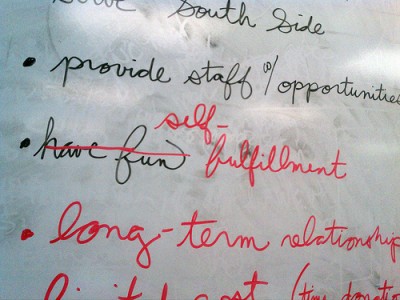 Read another opinion
Image by quinn.anya
P.S. You do have a mission statement, don't you?