Simple Birds
It was half term last week. I took my children to North Norfolk. We explored sandy beaches, rolling countryside and panoramic skies.  It was as beautiful.
The highlight was a walk across the salt marshes and the sight of a flock of startled geese scurrying across the sky.
How do the birds — which let's be honest are non to bright — manage to create such complicated patterns?
Mathematicians have modelled it, it turns out it isn't too complicated at all. There are only three rules the birds have to obey:
Alignment – fly the same direction as your neighbours
Separation – avoid other birds that get too close
Cohesion – move towards another bird until it gets too close
A beautifully complicated defense mechanism governed by three simple rules.
French drivers are equally simple
In his book the laws of subtraction Matthew E. May describes another complicated system governed by simple rules. He tells the tale of driving around the Arc de Triomphe in Paris, a roundabout with 12 entrances, no traffic lanes and no signals.
Again the rules are simple:
Give way to traffic entering the junction
Look out for traffic coming from the right
Avoid traffic that gets too close
At least some complicated systems can be controlled with very simple rules.
We operate complicated systems every day
We collect taxes, run hospitals, provide telecommunications, direct air-traffic…
But the way we control our systems is far from simple.  We have multiple business rules, targets, audits, incentives, regulations, policies and procedures.
Which begs the question… Do we understand what the really important rules are?  The rules that make the system work?  Or are we simply cluttering the workplace with endless controls that only get in the way?
Are we clever or bird brained?
Maybe we could learn a thing or two about control from a bird with a brain the size of a walnut, or — heaven forbid — a French driver.
If you enjoyed this post click here for updates delivered to your inbox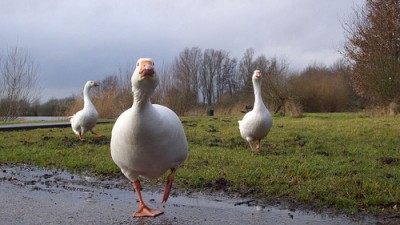 Read another opinion
Image by Bertuz