Whenever I visit somewhere new I am always given a tour of the offices.  I am not entirely sure why.  I have been in offices in Manchester, London, Glasgow and Swansea and they all look the same.
More to the point I have been to Bangalore, Washington, Rotterdam and Sydney and to be honest they don't look a lot different either.  They all have desks, computers, phones, chairs, pot plants and water fountains.
Office tours are high on my list of the most boring ways to spend a couple of hours.
I have also been shown around a number of factories.
Factories are a different thing all together, you can see what is going on, you can see what is being made, how fast things are happening, where the backlogs are, where things are broken.  Factories are a lot more interesting.
But there is more to it than that.  Because it is clear what is going on, it is also clear what needs attention.  It is very difficult to hide a pile of scrap bicycles or sweets or computers.
If you could make your office as obvious as a factory what would the impact on your service and profitability be?
Could you make it obvious:
What work needed to be done today?
Where things need to go to next?
What problems there are?
Here is the challenge:
How do you know things running smoothly?
Can you and everybody else see it?
Is it absolutely crystal clear?
Blindingly obvious?
If the answer is no how about starting with some thought, a notice board, and a daily pull up meeting?  It is amazing how much clearer; more engaging and productive you can make things.
And I might even come and visit and see what is going on.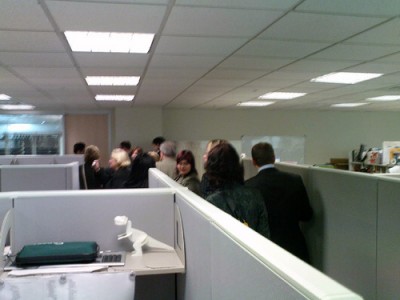 Read another opinion
Image by Silly Jilly