In the third world, 4 million children die every year within a month of birth.
It's an avoidable tragedy
If half of those children were simply kept warm and clean they would survive.
In the developed world we have incubators that do exactly that.  I spent the first week of my life in one.  And that was in the late 60's.  (We have had the technology for a long time).
But it isn't the technology that is the problem.  You can buy a second-hand hospital incubator for about £1,000 and ship it to a village on the Amazon.  It may well work for a year.  But when it breaks it breaks.  The infrastructure isn't there.  They don't have the spare parts or the engineers or the consumables.
It is futile.
Or is it?
The marvel of lateral thinking
A company called Design that Matters have come up with a solution.
Wherever you go in the world you will find a beat up, second-hand Toyota.  And wherever you find a beat up second-hand Toyota you will find someone who can fix it, complete with a set of spare parts.
Design that Matters built an incubator that uses those spare parts.
The heat from head lights keeps it warm
A car fan and filter system keep it clean
Every car has a temperature gauge
Warning lights are used as warning lights (ingenious)
And power comes from a battery
Easy to maintain, wherever you are.
Nowhere is perfect
It isn't perfect where I work, we don't have everything we need, I could write a long, long list of failings and constraints, things that get in the way.  I bet you could do the same, no organisation is perfect.
Instead of moaning about what you haven't got how about working with what you have?  It might take you somewhere.
Interesting article?  Click here for more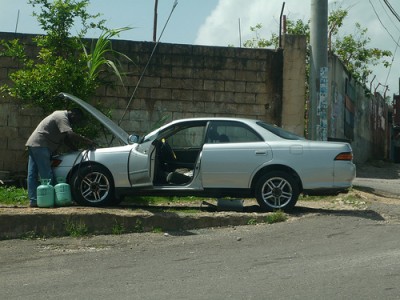 Read another opinion
Image by JLaw45