My 4-year-old daughter is learning to count.  She is obsessed by it.  She counts everything:
1.. 2.. 3.. 4.. 5.. 6..
Everywhere we go.
Most of all though she counts steps.  Particularly in castles and cathedrals (which is fun) and car parks (which when you are laden with bags full of shopping… that you just want to put it in the car… before your arms drop off… is less so).
In truth she isn't very good at counting.  If we are counting the steps to the top floor of a car park her number and mine never agree.
There are two reasons why she is wrong (and I am right):
1.  She makes mistakes:
Counting is difficult:
Fifty seven
Fifty eight
Fifty nine
Twenty
Twenty one
You get the idea.
2.  She isn't clear
3 steps up and 1 step down makes it 2 steps high (Daddy logic).
3 steps up and 1 step down makes it 4 steps (yes but it is a step Daddy, I just stepped it).
Adults like to count as well
We count a lot, just not steps, we count calls and customers and jobs and money.  We call it management information.
Of course management information isn't information if it is wrong.  So we obsess about making sure it is right, that the numbers match, that we have a single source of the truth.
But expecting a single truth is naïve.  If two people count the same thing they will count it differently and you will get two different numbers.
1.  We make mistakes.
We count complicated things.  Imagine working out the number of calls that come into a call centre that gets:
Sales calls
Quote calls
Service calls
After sales calls
Out bound calls
Calls from customers
Calls from people who aren't customers
Calls from staff members
Transferred calls
Chase calls
All those calls are recorded on different databases, at different frequencies, using different technologies.
The more convoluted the thing we are counting the more likely we are to get it wrong.  And we all love complexity.  So we get the numbers wrong all the time.
Nobody is perfect.
2.  We aren't clear
We all define things differently; when is a call a call?
Are we talking sales calls or service calls?
What about a service call that lead to a sale?
Are internal calls calls?
If a call is a wrong number, should you count it as a call?
How about ring backs and outbound calls?
Do you want Monday to Sunday or week commencing Saturday?
Should you count a call from the second it starts or the second it finishes?
The answer to these and a myriad of other questions often depends more on the reason you are counting calls than the fact that a phone rang.
Please don't be naïve
Don't obsess about the precise number.  Stand back and look at the bigger picture.
But most importantly of all, ask yourself why you are counting this thing in the first place?
Do you really need to know how many steps there are in Trinity Square car park?
When the lift is broken the answer is plenty.
It is better to be vaguely right than exactly wrong~ Carveth Read
If you enjoyed this post click here for updates delivered to your in-box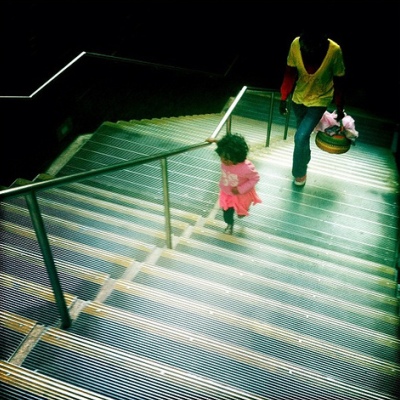 Read another opinion
Image by the_gain_card