I used to make sweets in a factory for a living.  We obsessed about "set up time".  The amount of time it takes to switch from one product to another.  Just think about it for a second, every time we switched from making a product with nuts to one without, maybe Snickers to Mars bars we had to:
Move out the peanut dispenser
Alter the recipes
Clean all the peanuts off the line
Reset all the cookers and coolers
Change over the wrapping machines…
All of this was very visible and time-consuming and as time is money the mantra was two-fold, cut the number of set ups and reduce the time they take to do.  Take out the down time.
There is no set up time in the service industry
Of course we don't have to worry about that in the service industry.  We employ clever people who can multi-task and better still, with the arrival of the computer age we can present our staff task after task just like that, a call here, web chat there, e-mail next, all with half an eye on twitter, looking for disgruntled customers.
Of course we are kidding ourselves…
A short scientific study
Daniel Weissman at the University of Michigan did a simple multi-tasking study.  He showed people two numbers.  If the numbers were red the subject had to say which number had the largest value.  If the numbers were green they had to say which number was in the largest font.
At the same he scanned his subject's brains with an MRI scanner so he could literally see what was going on inside their heads.
He found that the brain pauses, then switches between tasks.  It needs time to think.  Red numbers… switch, green numbers… switch, red numbers…switch.  The faster the test, the more prevalent that switching time and the trickier it became.
Set up time doesn't just apply to factories; it applies to our heads as well.
Who are we trying to kid?
We can't actually multi-task at all, what we do is focus on one issue, switch, focus on another issue, switch, focus on the third issue, switch…
Switching is easy to do when the tasks use different parts of your brain, e.g. watching the TV whilst cooking the dinner, but if like the sweet manufacturer you are using the same resources to do two different tasks the switching takes a lot longer.  Try holding down a telephone conversation whilst writing an e-mail at the same time and you will know exactly what I mean.
Multi tasking doesn't make us more efficient, it sucks up time, causes errors and costs money.
What the statistics say
If I haven't convinced you how about a couple of statistics:
2,600 deaths and 330,000 injuries may be caused in by drivers using mobile phones each year ~ Harvard Centre for Risk Analysis
US office workers spend 28% of their time on multi-tasking related transitions and interruptions. (That is $650,000,000,000 a year) ~ Jonathan B. Spira
How do you feel about multi-tasking now?
So what could you learn from manufacturing?
Just like the guys in manufacturing you should apply the same approach:
Reduce the number of changes, let people focus on one task at a time, don't overwhelm them
Reduce the size of the change, simplify what you do, reduce the complexity of: tasks, rules and regulations.  Don't make your agents think.
They will be far more productive.
Still not convinced?
Have a look at the diaries of your project managers.  Is it any wonder nothing gets delivered on time?
A last thought for the hard of understanding
How exactly do you feel when your boss is reading his blackberry whilst listening to your presentation?
Can we do two things at once? Well, we're of the view that we can walk and chew gum at the same time. ~Richard Armitage, deputy secretary of state, discussing the US wars in Iraq Afghanistan and Iraq.
Enjoy this post? Click here for updates delivered straight to your inbox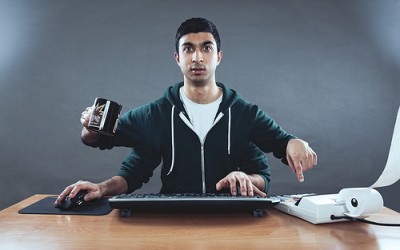 Read another opinion
Image by ryantron