Successful organisations revolve around trust.  The more you trust your colleagues the less you worry about them:
As trust rises, business becomes faster, smoother and cheaper.  Frictional costs disappear.  As Steven Covey would say, business moves at the "speed of trust".
Trust is a big deal.
So what is trust?
No 2 by 2 model will really ever define trust, but hell, here is one anyway, put forward by Peter Scholtes
: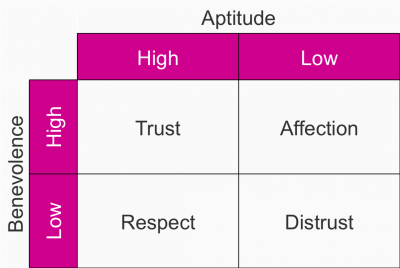 Trust is based on two factors:
Aptitude:  The extent to which I think you are capable
Benevolence:  The extent to which I think you have my best interests at heart
I am affectionate towards my daughters, they care about me, but they are hopeless.  I wouldn't trust them to make me a cup of tea, let alone wire a plug.
I respect the Prime Minister, he is a clever man, though he taxes me enough to fund the Houses of Parliament's wine cellar.  I certainly don't trust him.
There aren't really many people I truly trust.  Which is a shame, because at best lack of trust is expensive and at worst… well I'm sure you've been there.
So how do you and I build trust?
If you believe the model then it is really simple:
The strange thing is that more often than not you have to give trust before you can receive it.  All of which makes me wonder; how many people truly trust me?
If you enjoyed this post click here for updates delivered to your inbox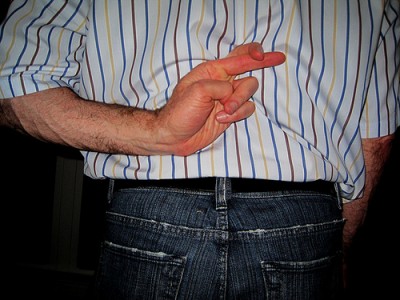 Read another opinion
Image by MichaelKuhn_pics