Error proofing is making things "easy to get right and difficult to get wrong".  It is a small but very powerful idea.
Improving customer service is easy, all you have to do is:
Find out what your customer is unhappy about
Work out what the cause of that unhappiness is
Fix that cause
In labour intensive service industries the cause is invariably people not doing what they are supposed to do, creating errors.  Usually the people are "fixed" by:
Training programs
Incentives or discipline
Quality checks
The problem with these solutions is that they are only as good as the people who carry them out.
How good is your quality checker at checking quality?
How good is your trainer at training?
We always seem to "fix" the same thing twice.
Error proofing doesn't rely on people.  It uses mechanisms to reduce the chances of the error happening, (the red line under a missppelling as I type this post).
Error proofing can be preventative, stopping the mistake from happening in the first place (a drop down list is preventative, it stops you entering the wrong data).
Error proofing can be detective, pointing out that the mistake has happened before it causes too much damage (an exceptions report is detective, it will tell you if your data is wrong).
Error proofing helps the fix stay fixed.
The best error proofing mechanisms are so clever you don't even notice them: when you plug in your PC you are messing with 240 volts, between them they could kill you, and you never even think about it.
If your employees have to think about it, it isn't making it easy
And if it isn't easy it is difficult
And if it is difficult, your employees won't do it
No matter how much you train, reward or punish them
Employees are like that, admit it, you are too.
Examples:
Fool Proofing:
BTW fool proofing is not the same as error proofing, there is no helping fools, no matter how hard you try.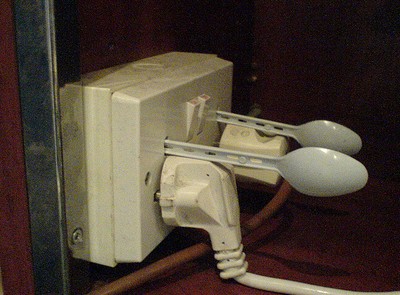 Read another opinion
Image by crucially