My 9-year-old daughter was in floods of tears.  It was a beautiful clear morning, the temperature was rising, she was going to spend the day at Summer School with her friends, nothing to do but lark about and have fun, yet she stood there looking like the proverbial wet weekend.
Being the sensitive type I asked her what (exactly) her problem was.
Swimming was the problem.  She had signed up to for her 400 meter badge, all 16 lengths of it, and it scared her that she wouldn't be able to do it, that her friends would laugh at her.
She was having a crisis of confidence.
Maybe a better way to put it was she was having a crisis of competence, could she swim 16 lengths or not?
Call it confidence or competence, what was clear was that she wasn't hugely engaged in the idea of going to summer school.
So how do you drive competence?  There are two lines of thought:
Opinion 1: You can be competent at just about anything
This is the line peddled by the Self Help Gurus.  All you need to do is:
Ensure you have the necessary resources.
Create the time to train
Find a good coach, somebody who has failed before, so you don't have to
Get some support, people who believe in you, who will urge you on
Have a strong will to succeed
Be willing to learn
Practice
To quote William Edward Hickson
"Tis a lesson you should heed: Try, try, try again.
If at first you don't succeed, Try, try, try again"
Opinion 2: You can't be competent at everything, pick your battles
This is the line peddled by the Management Gurus.  They believe that you should:
Understand what your strengths are, work on them don't waste time on weaknesses
Understand your personal values
Work out where you belong in the world
Find out where you want to contribute
Then focus your competence building there
The missing element
Both perspectives are probably true, but they both miss something.
My daughter managed all 16 lengths, she told me with a big grin that she wants to do 32 by the end of the week.  Whether or not she is a truly competent swimmer is irrelevant, she is hugely engaged, trying hard and having a good time, all because she thinks she is.
Confidence and Competence are two sides of the same coin.
The chicken, the egg and engagement
It is a chicken and egg debate, are you confident because you are competent, or the other way around.
We like doing the things we believe we are good at and rarely even try if we think we aren't.
If there is one certain way to shut down somebody's confidence it is to tell them they are incompetent; now what does that do for employee engagement?
Or as Henry Ford put it:
"There are two types of people in this world.  Those who think they can and those who think they can't and they are both invariably right."
Receive updates by e-mail: click here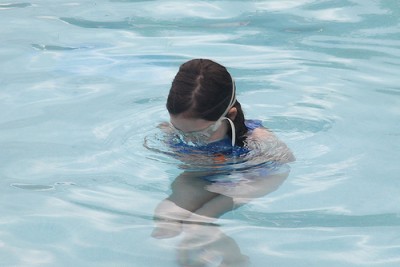 Read another opinion
Image by PoolSafely