A tale of two offices

The first  is a shambles, clearly the owner has no idea what is going on, he should be taken outside, sacked, hung, shot and generally persecuted for good measure.
The second is a model of organisation, it is paper free, the work has been, productionised, computerised, systematised and digitised.  It is highly productive, the future.
Or is it?
Excuse me for being a Luddite, but I am not so sure.
In the first office I know I have a problem, there is a disaster in there somewhere, just waiting to happen.
But in the second office?  It all looks great,  have I been lulled into a false sense of security?
What is the next thing to be done?
What are the burning issues?
How big is the backlog?
Is anything about to explode in my face?
I have precisely no idea.
I wonder where all that paper has been hidden, under the carpet or on the hard disk?
I doubt its owner really knows either.
Can you tell me exactly what is going on in your office?  At a glance?
Has all that expensive automation solved your problem?  Or hidden it?
Maybe there are cheaper more effective ways of getting organised.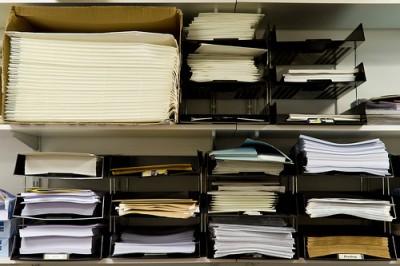 Read another opinion
Images by hansbrastad Jeffrey Beall smileham