Customers are selfish people.
They want everything, they usually want it now, and worse still, what they say they want and what they really want are not necessarily the same thing.  Customers aren't known for being clear.
This is a bit of a problem.
Fortunately in the 1980's a very smart Japanese gentleman called Professor Noriaki Kano developed a simple graphical way of thinking about and categorising customers needs; whilst not exactly customer telepathy (it won't give you the answers), it does frame the issues.
What Professor Kano realised was that customer expectations can be divided into 3 groups.
I am sitting on the 06:28 train from Nottingham to London, so let me use that as an example…
There are some things I need:
These are my basic expectations or to put it another way, the entry criteria for running a railway.  If East Midlands Trains pull them off seamlessly then I won't be impressed, but if they fluff them, then I will be a major pain in their neck.  They are just the things I expect when I hand over my money.
I only really have three needs:
To get to London safely
To get to London on time
A clean train
The relationship between fulfillment and satisfaction looks a bit like this: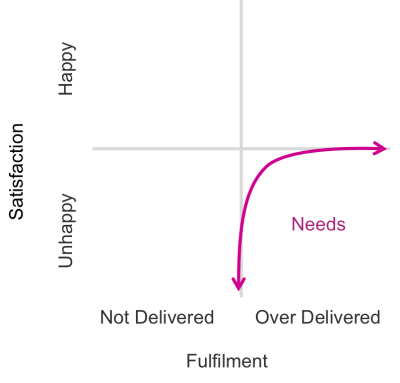 It is really all or nothing.  There is no glory in meeting my needs, just a lot of grief if they're not.  And if they're over delivered, maybe flowers in the lavatory, I really don't care too much.
But as a customer I want more than my needs.
There are some things I want:
The things I want are not the same as those I need.   I want a cheap trip, I want a roomy train, I want a fast journey (not quite the same as being on time).
There is a linear relationship between delivery and satisfaction.  It looks like this: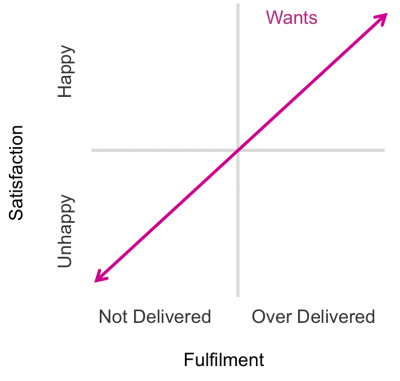 The more East Midlands Trains give me the happier I will be.
Now I have my needs and wants met, there is still more they could do.
There are some things that will delight me
Unexpected actions that will surprise me and make me happy, maybe a guard who makes me laugh, or a free cup of coffee.  Here the relationship looks like this:
I wasn't expecting any of these things, but if they happen, well, they blow me away.
Did East Midlands Trains make me happy?
Erh, no.  For the record, my train was on time, clean, crowded and very expensive.  As for surprise and delight, let's just say East Midlands Trains met my expectations.  They just about broke even on my happiness levels.
Typing this I feel somewhat average about the journey and as they say:
Nobody raves about average ~ Bill Quiseng
It doesn't have to be that way
The Kano Model makes you think.  It makes you be explicit about what is important to your customers.  But thinking only takes you so far; the trick is to act.
There are companies who use the model to their advantage.  Another business that transports people is Southwest Airlines:
They meet people's needs, delivering them safely to their destination.
They are OK with wants, they have a single model fleet of planes that is inexpensive to run and maintain. They are cheap, clean and reliable.  Nothing outstanding.
But they blow people away with the delighters.  The attitude of their staff is amazing.  Every Southwest flight is a party.
The Kano Model provokes thought.  But life will only get interesting if you act on it.
If you enjoyed this article sign up for the e-course
Read another opinion
Image by JL Johnson