You must have fun!
I worked for an organisation that believed in having fun at work.  If you were having fun you were happy and if you were happy you were engaged and if you were engaged you were productive (or so the logic went).
To make sure we were all having fun we had a fun budget, so we could legitimately spend money and time having fun:
We went to amusement parks
We went on boat trips
We spent a lot of time in the pub
We even bought a stomp rocket
We made sure we spent our fun budget every year, down to the last penny.
Did it work?
Not really.  We were spending it on the wrong things.  Instead of asking what we could do that was fun, we should have asked what got in the way of us having fun.
Maybe if we had spent our time and effort solving those issues we would have had much more fun, and been much more engaged and been much more productive.
Let's be honest, forced fun isn't… Is it?
Except when the stomp rocket knocked over the COO's cup of tea; that was very funny… after he had gone.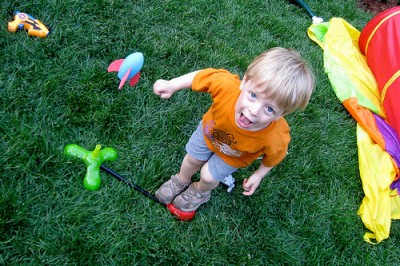 Read another opinion
Image by Nabeel H