If you have ever done any operations analysis in a contact centre you will know all about average handle time, the average time it takes your agents to "handle" a customer call.
It is a key performance indicator (measure is a shorter way of putting that) designed to instil the fear of god into any call centre manager.
On the one hand you can't ignore it, it costs money, a lot of money.  Ten seconds on every call in a 600 seat contact centre is, well, a lot of seconds.  And a lot of seconds amount to a lot of money.
On the other hand, you manage it at your peril.  The minute you try to incentivise agents to handle calls faster, to give them a target or a bonus, you end up with transferred calls, calls cut short, agents cherry picking jobs, people cheating on their telephony stats, complaints about rude service and best of all, a bunch of agents on performance improvement programmes.
It is a night mare, what are you supposed to do?
Well, in truth it is really quite simple.
The first thing to do is stop looking at the average call handle time of your centre as a whole, that way lies madness.  The trick is to look at the average handle time of individual agents.  If you do that you will start to see a pattern you can do something about.  Some agents will have low handle times all of the time.  The vast majority will be, well, average and some will have high handle times all of the time.
The question is then simply why?
For the agents who are the most "efficient", the guys who turn customers around the fastest, listen to their calls.  What are they doing?
Are they super efficient?
Do they structure their calls properly?
Are they doing all the things they need to do?
Are they just giving customers short shrift?
Likewise for the agents who are always the longest
Are they just lazy?
Have they been taught how to deal with customer enquiries?
Are they being sent all of the difficult calls?
Are they following up to ensure that there is never a repeat call?
Unfortunately the only way to understand what is really going on in your service centre is to move away from your statistics and management information packs and to kill the incentives and targets.  It is to find out who is performing in what way and then go and listen, to find out why.  Then you can do something about it.
Of course this approach doesn't just apply to call handle time.
Which of your staff consistently sells more?
Which of your staff always collects the biggest debts?
Which of your staff is invariably the fastest at repairing forklift trucks?
Look at the distribution, and then, before you impose a target, ask yourself why is that so?
You never know, you might just learn something.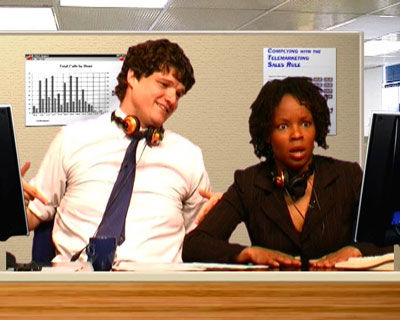 Read another opinion
Image by Jamiefreaky