I was late, I am permanently late, I was born late and I am still trying to catch up.
I was driving to a call centre in Halifax.  If you have ever visited Halifax you will know that the last 5 miles into town from the motorway are along the most tedious stretch of "no chance to overtake" road in the country.
The car in front of me was dawdling, hesitating at lights, stopping at junctions which I could have got over.  Drifting along at 45 miles per hour where the limit was 60 and 25 in the 30's.
I am lucky (stupid) enough to drive a 3 litre car, allegedly it is good for 175 mph and this car in front of me is doing 25 and I am late, late, late.
And I couldn't get past.
I spent the last 5 miles a testosterone fueled 5 meters off her rear bumper (obviously it was a woman driving).  Gesticulating wildly.  Get off the road, you are in my way.
The car in front of me pulled into the same office estate I was going to, then into the same car park and then I realised I knew the driver.  It was Joanne, she is lovely, her husband has just been diagnosed with cancer.
Oh…
I had to apologise, profusely.
The point of the story?  How much time at work do you spend bad mouthing people?  If you took the time to get to know them and understand their motivations, pressures and stresses would you see the world differently? Would your relationships be more productive?
If you run an organisation, do you invest time allowing people to listen and learn more about each other?  Could you:
Do some charity work together?
Work through the team's Myers Briggs profiles?
Take them all out for a drink after work?
How can you let the people you work with get to know each other?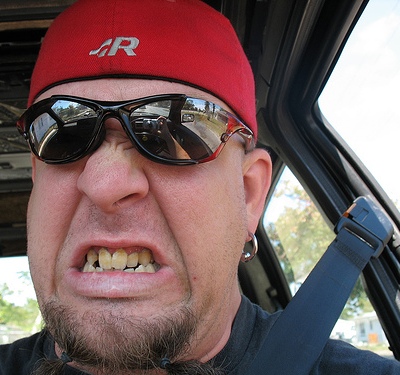 Read another opinion
Image by Nikoretro