Here is a fascinating chart for you…  fascinating if you have a thing for charts.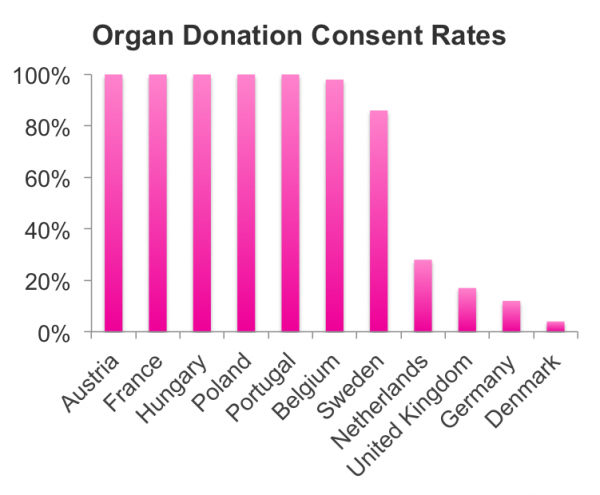 What the data shows is the consent rate for organ donation in different European countries.
It appears that the French are very generous.
If they are unfortunate enough to die an untimely death almost 100% of them have given their consent for their organs to be transplanted and used by others.
Less than 1 in 5 of the British are similarly big-hearted.
The French, no doubt, would say that this is a cultural phenomenon, the British are known for their miserable ways.  (They have a point, we are miserable, primarily because of the weather.)
But cultural differences don't explain it
If they did why would the Germans and Austrians show such a huge difference? They seem to me to be very similar nationalities.  Or how about the Swedish and Danish?
There is something else coming into play…
And that something else is easy to explain.
Some countries opt-in to donation
In The UK, Germany, Denmark and Netherlands we have to tick a box explicitly stating that we are happy for our organs to be transplanted.  Very few of us get around to ticking it.
Some countries opt-out of donation
In the other countries it is implicitly assumed that you are happy to have your organs transplanted, unless you tick a box stating otherwise.  Very few of them get around to ticking it.
It is all about the tick box
The vast difference in generosity between nations has nothing to do with culture and everything to do with design.
Nobody is coerced; it has just been made easy for people to make the "right" decision.
So if you want your staff and customers to do the right thing…
Make it easy for them.
(How do you know what the "right thing" is?  There is a whole different story.)
If you enjoyed this post click here to have updates sent to you directly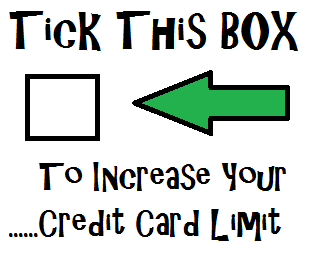 Read another opinion
Image by mitzpantic