We talk a lot about accountability in business.  We like it.  It makes us feel confident and in control.
So is accountability all it is cracked up to be?
Accountability is good:
It provides clarity
It gives authority
It holds us true
Holding ourselves accountable is invariably a good thing.
It is wrong and immoral to seek to escape the consequences of one's acts ~ Mahatma Gandhi
Accountability is bad:
It enables scapegoating
It creates fear
It results in blame
Holding other people accountable is a far more slippery slope.
The search for a scapegoat is the easiest of all hunting expeditions ~ Dwight D. Eisenhower
It is a fine line to tread:
Should you hold those around you accountable for their performance or work with them to deliver the results you want?
Hold everybody accountable? Ridiculous! ~ W. Edwards Deming
The Google test:
Try typing "accountability quotes" into your search engine and count the number of results that come from politicians.
Even if I have to stand alone, I will not be afraid to stand alone. I'm going to fight for you. I'm going to fight for what's right. I'm going to fight to hold people accountable ~ Barbara Boxer (U.S. Senator)
Oddly they are far keener on holding others accountable than themselves.  Maybe I am just a cynic.
If you enjoyed this post click here for update delivered straight to your inbox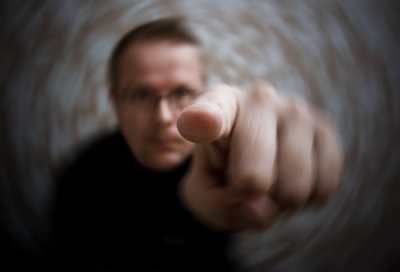 Read another opinion
Image by left-hand