I have just sat through the most boring, least effective meeting of my life.  If I could have gnawed my own leg off to escape it I would have gladly done so.
Unfortunately that wasn't an option, it was interminable:
It wasn't clear what we were there for: was it to update us? Was it so we made a decision?  What was the decision we had to make?
Unsurprisingly, since we didn't know where we were going nobody had thought out how we were going to get there.  The discussion was poorly structured without a clear agenda.
Finally, when we eventually managed to get to the point where we had worked out what we needed to do, it became tragically clear that the person who held the key piece of information, the nugget that would have killed the meeting stone dead, was, sadly, on holiday.
The only saving grace of the whole session was that the "chair" had laid on tea and biscuits.  Unfortunately this had the side effect of making the whole thing just about bearable, so we sat there for the whole hour.
So, if you are going to hold a meeting with me then please please think through:
The purpose, what are you there to achieve?  Is it to provide information, to come to an agreement, to make a decision?
The process, how are you going to achieve that purpose? Is it a lecture, a brainstorm, will people vote, do you need consensus?  What is the mechanism you will use?
The people, who do you need? Who is accountable? Who should you consult? Who must you have?  Who can you manage without?
And if you haven't got the decency to do all of that, please at least make it a stand up meeting, so that I am suitably uncomfortable and have the sense to walk away.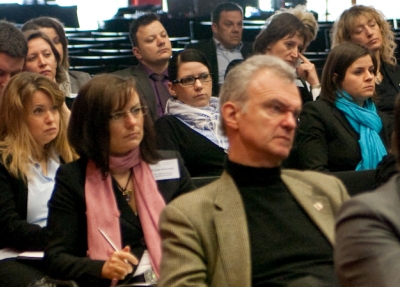 Read another opinion
Image by eveos