I am a process guy
I make no excuses.  Not everybody sees the world the way I do, we all have different perspectives, some people think process management is a waste of time.  Although I hate to admit it, sometimes, other people's perspectives are valid.
So, with the aim of fairness I have jotted down the top 3 reasons why business process management won't work for you (then argued about it):
1.  It isn't relevant to me
My job is a creative, I work in marketing, or advertising, I am a specialist.  You can't systematise what I do.
Alexandros of Antioch was the sculptor who created the Venus de Milo.  He could claim that he was a creative.  Sculpture is about as creative as it gets.
It does strike me though, that there are a number of stages that you go through, whatever you are sculpting:
Pick a subject, if it is a commission now is a good time to be clear.
Do some rough drawings, from all angles.
Choose the right material. What will splinter?  What is easy to work?  What will last?
Start with a big hammer and chisel.
Get out the small chisel.
Resort to sand paper.
Clearly I am not a master sculptor, but there is an amount of savoir faire that needs to be applied.  Knowing all of the detail won't make you a great sculptor, but if you don't know it you certainly never will be.  Process is only the qualifying factor, but without it you don't qualify.
2. This will slow me down
I don't have time to follow all those policies and procedures, checks and balances.  They get in the way of progress.
The response to that one is simple, how much time do you spend re doing what you could have got right first time?  Does that slow you down?
3.  It's for Geeks
Those process people are so geeky, why would I want to associate myself with them?
It isn't just for geeks.  Take a fire man for example; assuming he is not drinking tea and reading the Sun, he will be doing one of two things, both of which are heavily process based:
Practicing, going over and over standard routines, learning his process.  When you are stuck in a burning building you don't want somebody plunging in to save you who doesn't know how to turn on his oxygen or where his mate with the ladder is likely to be.
Risk assessing, walking round shops, pubs, night clubs.  Making sure that there is as little as possible that can go wrong.
Shades of Gray?
If you follow the process, right down to the letter, without varying anything will you create anything new?  No.  You will not be creative.
If you wrap yourself up in reams of badly thought through and nonsensical bureaucracy and paperwork will it slow you down?  Yes it will slow you down.
Too much is too much and too little is not enough.  Draw the line where you think it is appropriate, just think about it and be explicit.
The only perspective I just can't see is the one about geeks.  Do I look like a geek?
If you enjoyed this post click here to receive the next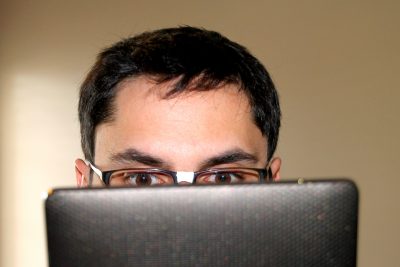 Read another opinion
Image by Allan